Ask yourself the following questions when you order:
Am I ordering small, flat items such as jewellery or smartphone accessories?

Am I ordering from an (Asian) low-cost online store?
If the answer to either of these questions is 'yes', chances are your order will be delivered in an envelope.
Low-cost (Asian) web shops usually send your order in an envelope in order to reduce costs. In that case, it is better to have the shipments delivered to your private address since they fit in the letterbox. Otherwise, they'll end up in between the daily mail delivery and not in the Bringme Box and you risk them getting delivered to the wrong person. Carefully read the transport conditions of the courier service.
Example: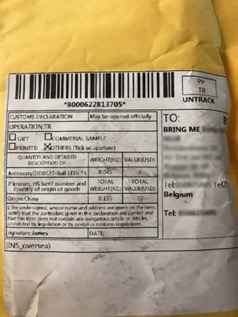 Where should I have my online orders delivered if they're shipped in an envelope?